We very much welcome both private researchers and institutions, who want to join the Consortium of North American Lichen Herbaria (CNALH) [if you are from Latin America, you might want to visit the Latin American Consorcio de Herbarios de Líquenes de América Latina (CHLAL)].
Personal collections of private researcher not affiliated with a particular institution should be managed in the General Observation and Personal Collections (CNALH-Observation) profile. If you have just registered, you will need access to this profile, please contact CNALH.help@gmail.com.
If you are the collections manager of a New Collection, your collection will first have to be created, before any data can be entered (or uploaded in batch). Unless you have Super Admin privileges, please contact CNALH.help@gmail.com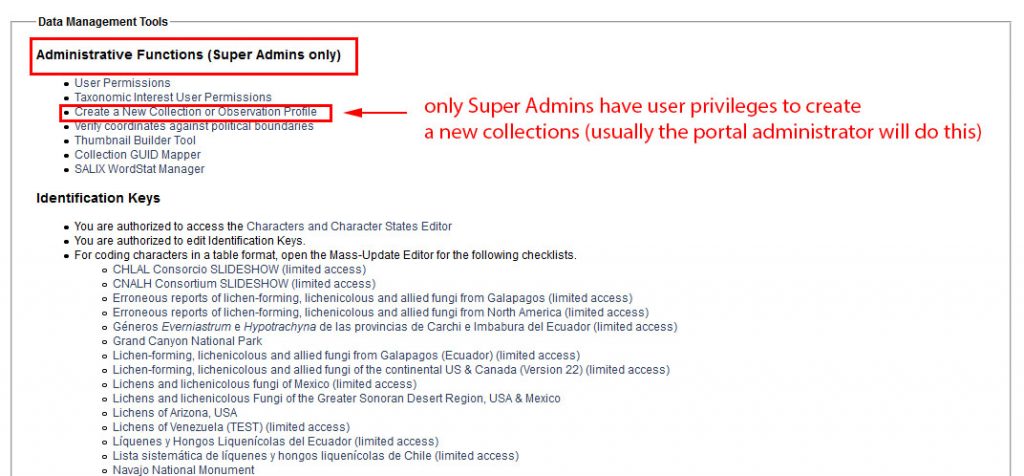 Important differences before creating a new collections are outlined below. Before a new collection is created, you will need to decide, if you want to manage your data offline in a local database and regularly update snapshots of your data, or if you prefer using CNALH as your collection database management system.
Two examples:
The Arizona State University Lichen Herbarium (ASU) manages all occurrence records (= specimen data) live online, inside the Consortium: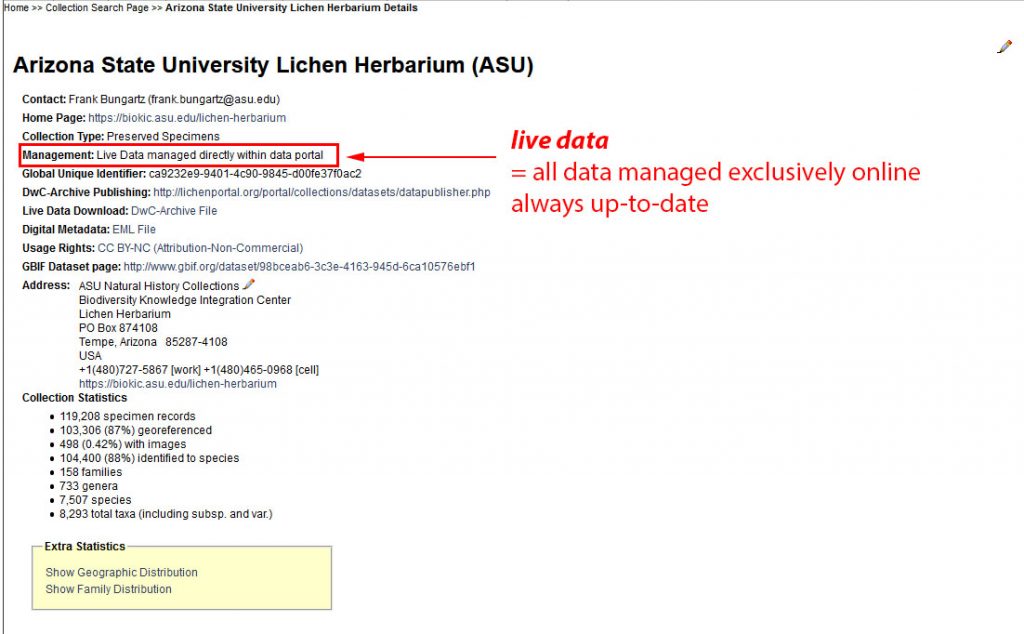 The Bell Museum at the University of Minnesota (MIN) manages their specimen data offline in a local database, but regularly uploads their lichen occurrence data to the Consortium: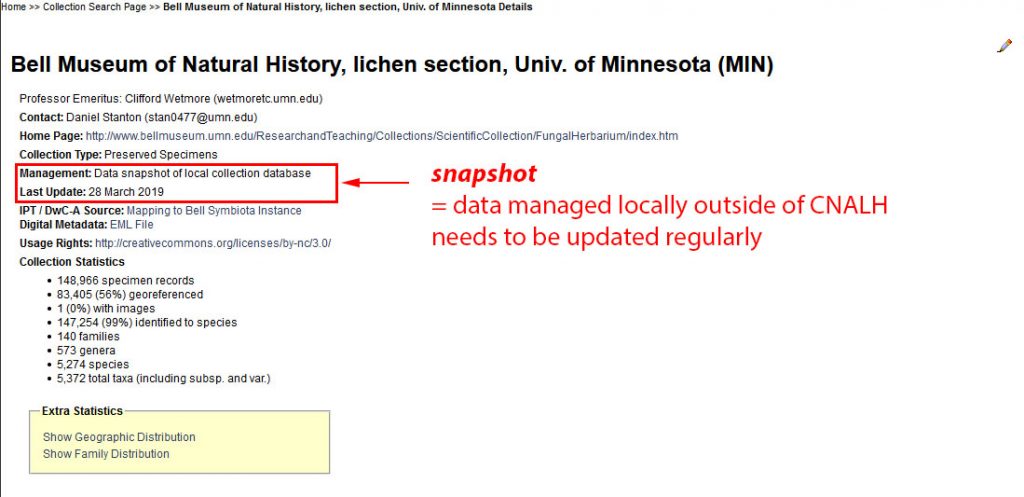 In CNALH both data sets belong to different collections that are either configured as snapshot or as live data set.
Here the metadata of another snapshot collection the lichen data snapshot from the Field Museum of Natural History (F).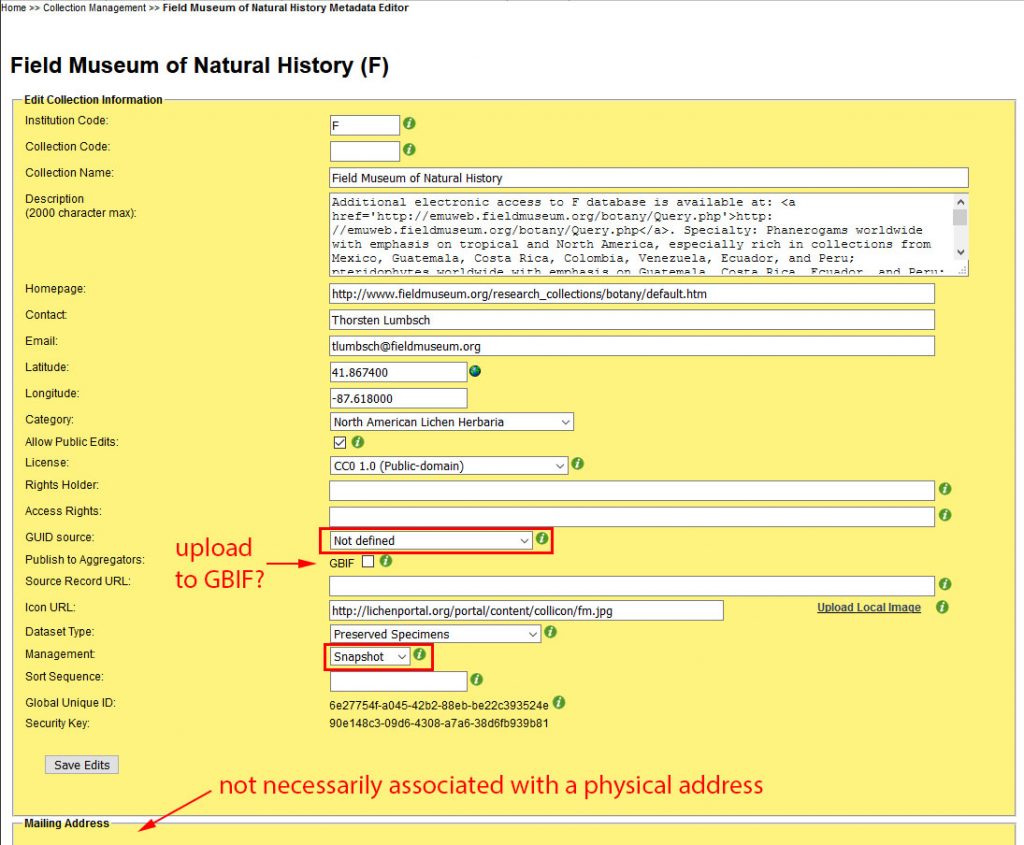 Snapshot collections often manage their own system of Global Unique Identifiers (GUIDs) and they typically do not use the built-in data uploader to upload their data to GBIF.
For most configurations it is nevertheless recommended to use either a unique catalog number or occurrence ID as unique identifier
Live Collections are always configured to use Global Unique Identifiers (GUIDs), A Symbiota Generated GUID (UUID) will be world-wide unique for each single occurrence record of your live collection. This GUID can therefore be used to upload and update records in DarwinCore format directly to the Global Biodiversity Information Facilities (GBIF).
Snapshot collections can also be uploaded to GBIF, but for this tool to work, your database must be configured to use GUIDs and the upload to GBIF checkbox must be enabled.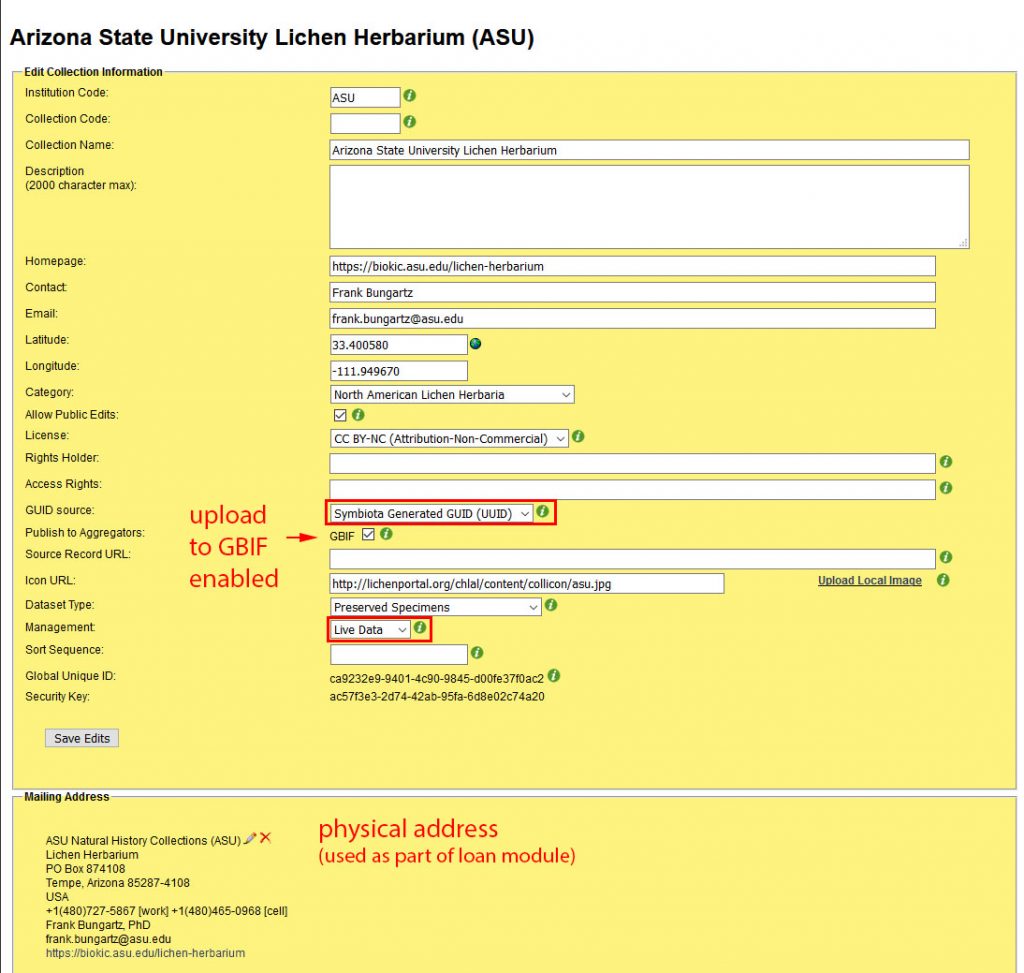 You will have noticed also that it is possible to add a physical mailing address to the collections. This is particularly useful, if you manage your specimen data live and use the loan management module to exchange specimens between different live collections.